For Sale: 1999 Safari Trek 26' Gas RV
July 13, 2008
The time has come to part with our 1999 Safari Trek.
SOLD!
(Thanks for your interest.)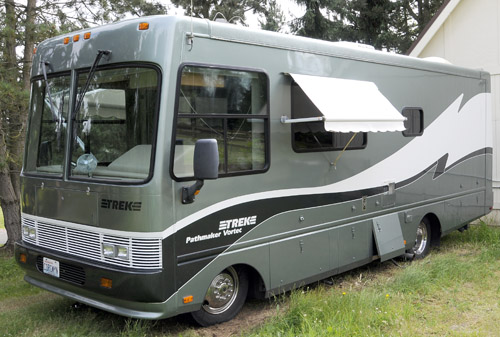 1999 Safari Trek RV
Many more photos below.
It's served us well for several years, but as our lifestyle has changed it simply fell out of use. We still love it, it just needs folks who'll actually use it once again.
Naturally it's in great shape ... but then what seller won't tell you that?
So here are some stats and some pictures that might help you make an informed decision. Note that every picture you see here is linked to a (frequently huge) full-resolution version for you to have a much closer look.
•
First, a couple of very important stats:
$30,000
Woodinville, Washington
Email preferred: rv <at> notenboom.org
Voicemail if needed: 206-774-0432
Features

1999 Safari Trek
26 foot (the "short version")
runs on regular unleaded
21,500+ miles (see photo below)
Queen Size Trek "Magic Bed" lowers from ceiling, which gives this RV a surprising amount of living room for its size when the bed is not in use.
Large Bath and Shower for an RV (one of the reasons we were drawn to it in the first place)
Onan Generator, which kept us quite warm and powered at home during the Seattle Windstorm of December 2006.
Regularly used to tow our Honda CR-V. (Honda, and towing equipment not included.) There's a braking system installed, but we've never used that.
50 AMP Electrical Service. Adapters provided for 35 AMP and standard 20 AMP connections.
Room-darkening shades replaced the stock curtains.

Other '99 Trek stats (*)

Double Paned Windows (except for windshield)
Solar Panel
Large Shower (see photo below) including skylight
Forced Air Heat
Backup camera
Convection & Microwave
80 Gallon Fresh Water
80 Gallon Fuel Tank (we ran into the original owner who told us this had been installed as non-standard option)
40 Gallon Black and Gray Tanks
35 Gallon LP Gas

* Unaudited, in the sense that this is mostly '99 standard model info and we've not specifically confirmed each of these.
This is a private sale. The motorhome is located at a private residence in Woodinville, Washington, a suburb of Seattle. Buyer is responsible for transportation.
The RV's in great shape inside and out, but is being sold "as is" - meaning that there's no warranty. All service records are available, and you're welcome to inspect the vehicle in detail before making your purchase. I'm also happy to take additional photos of specific items on request.
Known Faults
This is a used vehicle, and as such it'd silly to claim it's absolutely perfect. So, in the interest of honesty and full disclosure, here are a few additional things you should know about this RV:
There's a little moisture between the panes of the upper driver's side window. Does not obstruct view.
The roof was professionally re-sealed in 2005 after a small leak was discovered over the passenger's seat. It's been water-tight through some serious wet weather ever since.
The CB radio (standard on this model of Trek) is present, but does not work.
Seat belts were added to the couch, but these are after-market and for liability reasons probably should not be considered as an actual safety feature.
The original factory-installed plastic protective carpet covering has been left in place everywhere except the bath, where we did have a water overflow one night. Two weeks of warm temperatures and fans blowing on the affected area rendered it once again dry as a bone. (There was never an odor, it was a fresh water spill.)
The passenger side mirror has been re-attached after the local emissions control crew asked me to pull through a testing station that was 3 inches too narrow.
There is an outstanding recall on the refrigerator that you'll probably want to have taken care of. Paperwork included.
We traveled with dogs. Again, it's been cleaned to the point that you might not notice, but this is probably not an appropriate RV for people with severe dog allergies. On the other hand, if you have Corgis, it's been Corgi-tested and approved.
Exterior Shots
Click on any photo for a (much) larger version.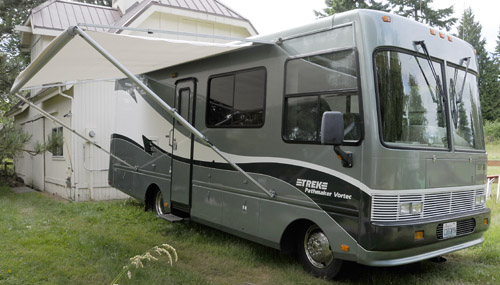 1999 Safari Trek RV - Awning Out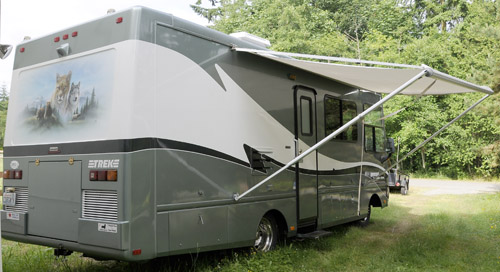 1999 Safari Trek RV - Awning side from the rear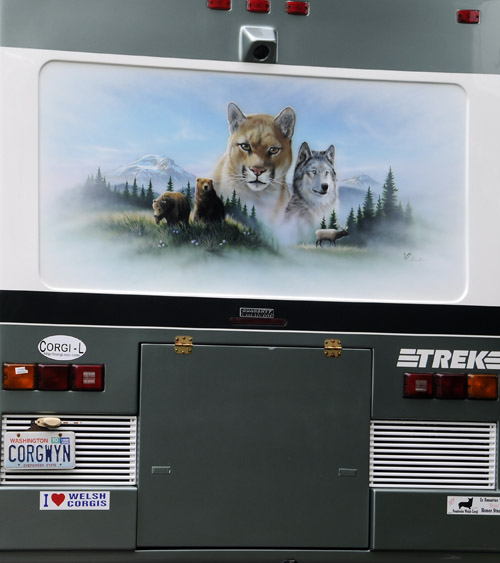 1999 Safari Trek RV - Rear Artwork (click through for the large size to really appreciate it :-)
•
Interior Shots
Click on any photo for a (much) larger version.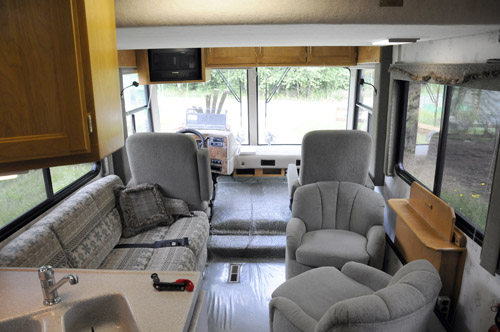 1999 Safari Trek RV - Interior looking forward. You can see we've intentionally left the factory original plastic to protect the carpet.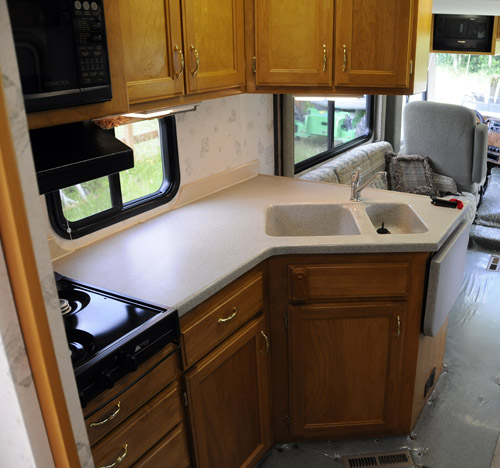 1999 Safari Trek RV - Kitchen.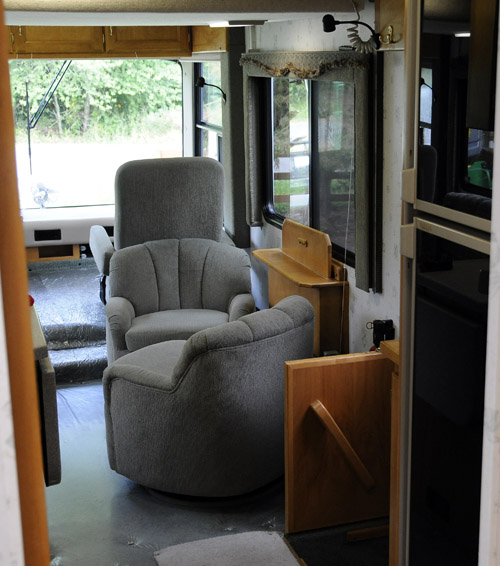 1999 Safari Trek RV - Entry showing fridge, and (sort of showing) stairwell.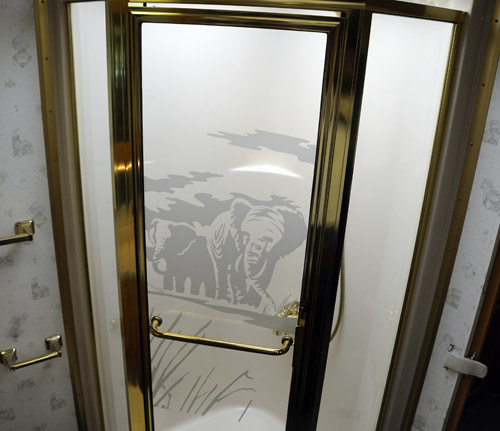 1999 Safari Trek RV - Shower. It's hard to do it justice, given the space available to take a picture. I'm 6'3" and showered here, as one real-world measurement.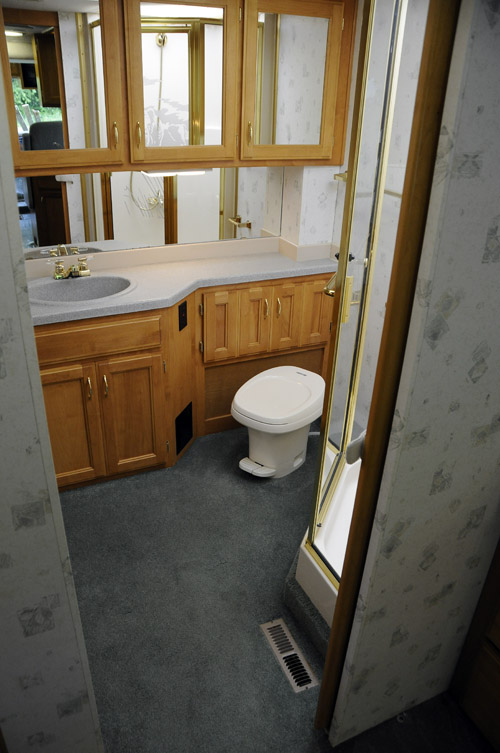 1999 Safari Trek RV - Bathroom. You can see the shower stall just off to the right. A sliding door makes this an actual room suitable for changing as well.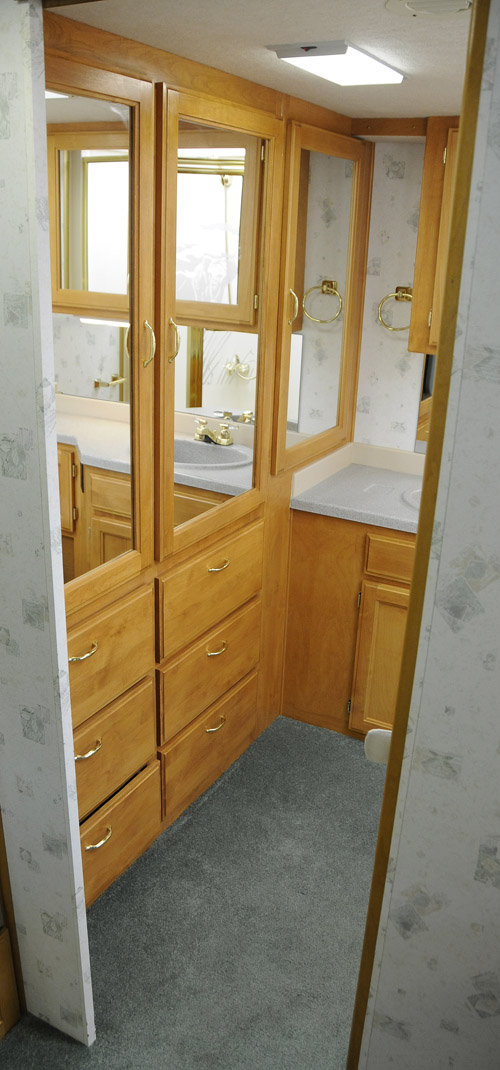 1999 Safari Trek RV - Bathroom Storage. A surprising amount of inside storage for clothing and whatnot.

1999 Safari Trek RV - Entry with Fridge. A perhaps better shot of the fridge and entryway.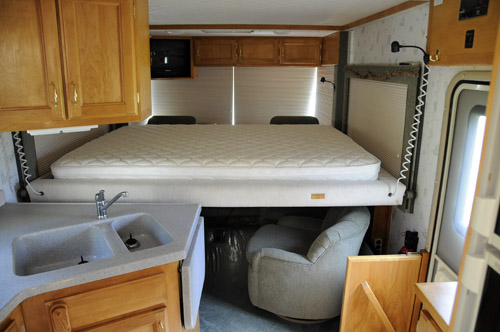 1999 Safari Trek RV - Interior with bed lowered. You can also see the room-darkening shades lowered on what was a very sunny day.
Additional Photos
Click on any photo for a (much) larger version.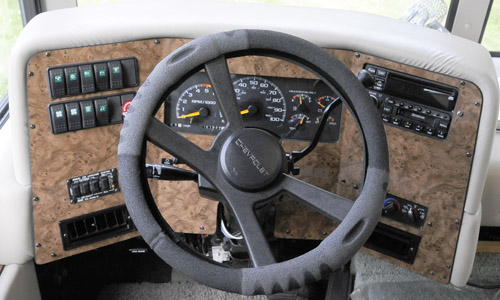 1999 Safari Trek RV - Dashboard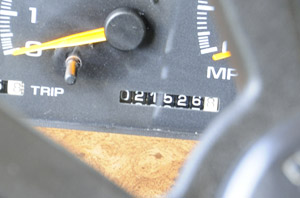 1999 Safari Trek RV - Odometer. To confirm the mileage claims above, here's a close up of the odometer.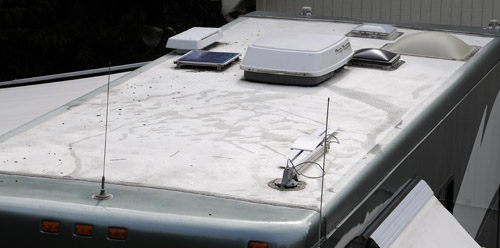 1999 Safari Trek RV - Roof. That's a little standing water you see on top of it, as we had just washed it for its "photo shoot". The roof was completely professionally re-sealed in December of 2005. (Receipt available.)