« March 2004 | Main | June 2004 »
May 22, 2004
leo.notenboom.org
Leo's Web Log.
Posted by Leo at 08:21 PM
May 16, 2004
Leo's Recommendations
Tech & Computer related recommendations.
Posted by Leo at 01:48 PM
May 14, 2004
Spring Corgi Get-Together
The clouds parted, the sun came out and the Corgwn gathered once again at the home of Vera, Guido and Helen (ok, and their humans) for another afternoon of frantic and rrandom acts of play.
If you were there and have any photos you'd like to share, just shoot them my way, and I'll post some here.
Adam Zilinskas has posted his photos here.
---

The deck was a popular gathering place for all.

Especially after food was being handed out.

Once the dogs started running about, the yard became a popular spot as well.

Lots of running about to chase the ball. (See movies below also).

And more running about to return the frisbee.

Raliegh shows how to do that frisbee thing.

The pool was another popular place, especially after "bobbing for weinies".

Paddington, in his royal coach.

Radar getting a little special attention.

I'm ready for my close-up!

Did someone say TREATS?

Forget treats, I'm just cute! (Cody)
---
A couple of videos of the pack running out & about after the ball and frisbee.

(4,265,054 bytes)

(3,458,838) bytes
Posted by Leo at 02:43 PM
May 12, 2004
"I Like Kathleen"
My mom's caregiver in her final days.
I Like Kathleen
by Leo A. Notenboom
(Published as "When We Need Her Most", HeroicStories #425: 10 July 2003)
My 87-year-old father has Alzheimer's disease, is profoundly deaf, and has difficulty walking. In recent years my 82-year-old mother cared for his slowly increasing needs, carefully assisting, guiding and reminding him through his daily life.
Early in 2002 I convinced my mother to have someone help with my father one afternoon a week. My mom and I began spending Thursday afternoons together, away from the constant vigilance of caring for my father. Kathleen, a caregiver recommended by a friend, spent the afternoon with my dad.
Getting my father to accept what he called "a baby sitter" was a challenge, but Kathleen remained patient. Communication was difficult, but she persisted, learning the tricks and nuances that allowed her to establish a rapport with him.
Last November my mom became very ill. That month, Kathleen's weekly four-hour visit became frequent day-long visits to help monitor both my parents. She continued working three nights a week at a nursing home, and attending school to become a certified nurse's aide.
It became clear that the stress of caring for my dad was contributing to my mom's illness, and we decided it was time for him to move to an assisted living facility. The depths of the connection developed between my father and Kathleen became apparent when I talked with him about living elsewhere.
After the expected protests, he surprised me by eventually agreeing that he'd need to move. I was doubly surprised and touched when he said, "I like Kathleen. Who knows, maybe I could move in with her."
My mother continues to live at home, but two emergency surgeries and a hospital stay left her extremely weak and unsteady. We're fortunate in being able to provide the 24-hour care and monitoring she needs to keep her safe while recuperating in her own home, with her own dog keeping her company. And Kathleen, of course.
Kathleen is a "virtual" member of our family now, each week spending four 24-hour days providing the care my mother requires. When my mother and I discuss the necessary parade of different caregivers through her home, we return to Kathleen, and how much my mother appreciates and trusts her care. "I like Kathleen," she told me recently.
I'm an only child, and I learned early on that my wife and I can't shoulder the burden of caring for both my parents alone -- it's too much. My parents are immigrants, thus any relatives who might help live on another continent.
Kathleen fits my family into her life now, when we need her the most. I'm blessed to have her help in this terribly difficult time. She has won my parents' hearts, and my acceptance and trust. I'll always be incredibly grateful to her, and yes, I like Kathleen, too.
Postscript
The story was actually written and submitted about three months prior to publication, and a lot happened since then.
I'm sad to report that my mother passed away on May 4th, 2003. We had arranged for in-home hospice care, so Kathleen, my wife and I were all there at the time. (As was my mother's dog ... an important part of her life.) Kathleen has since remained instrumental in helping us with the many details of wrapping up a household.
My father, who actually broke his hip about the time the story was written, is in an excellent nursing home. We're not certain now if he understands or not that my mom is dead. We have hard examples of both knowing, and forgetting. We don't remind him, though, and it seems he doesn't ask much any more. Alzheimer's is a cruel disease - physically my father is recuperating, but the mental debilitation is slow but steady.
Kathleen finished school and received her CNA (Certified Nursing Assistant). She's investigating her next step and is currently leaning towards becoming a phlebotomist (the folks that draw blood in hospitals and clinics).
Kathleen's personal story is both amazing and heroic. I'll just say that she's made some major positive life altering decisions over the last several years.
One last story-within-a-story. Kathleen's first grandson was born two weeks before my mother passed away. The last photos of my mother, and some of her last smiles, are when she was allowed to hold the two week old infant.
Post-Postscript
My father passed away November 20th, 2007 at the age of 91. My wife and I had some warning, and thus were able to spend the night before his death at his bedside.
The one person whom we knew would want to know beforehand was Kathleen. And so it was that she was able to take a some time off of work for us, join us for most of our vigil and truly complete the story.
Copyright © 2003-2007, Leo A. Notenboom
Posted by Leo at 10:14 PM
Our Home
from above also!

Our home in the Hollywood Hills area of Woodinville.
Same home, different angle J: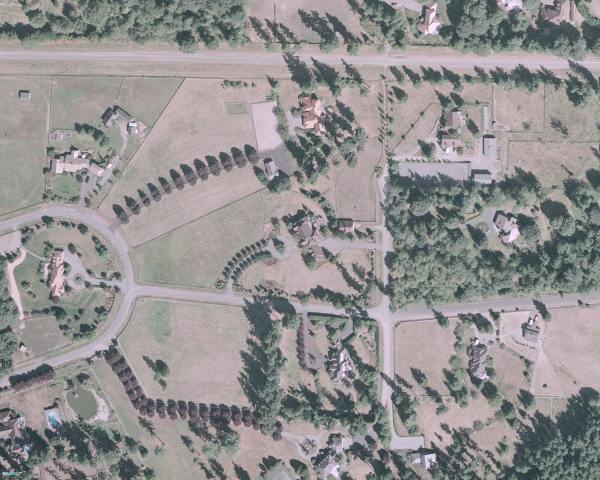 Actually that's courtesy of GlobeExplorer. Another source for these types of photos is terraserver. Lots of Satellite and other imagery there. Here's a version that calls out our lot: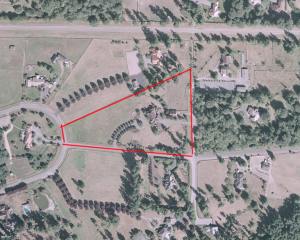 The long horizontal "road" across the top isn't a road at all, but the Tolt river pipeline, providing about half of Seattle's water.
Posted by Leo at 10:03 PM
Links and Recommendations
Services we've used, people we trust.
Recommendations:
Organizations:
Computers, the Internet and Computing Lore:
Posted by Leo at 10:00 PM
Lurch's Story
Our "special needs" kitty.
Lurch came to us in August of 1996, and we've had many questions about him since.
Lurch was part of a feral litter, found by our veterinarian's daughter in an empty lot. The mother was taken by animal control, but the litter was left behind. One by one, all were adopted to friends and clientele, until only Lurch was left.
The problem, of course, was that Lurch was, well, a little different. All the other kittens were healthy, but Lurch suffers from a condition known as "cerebellar hypoplasia". We believe this is due to the mother having had distemper during her pregnancy. The effects are, as best we can fathom, a serious lack of balance; impaired fine motor skills that result in a shaky or "wobbly" motion , and an apparent bad case of far-sightedness. As a kitten, Lurch could barely walk.
1996 is the year we lost both of our dogs; the Newfoundland, Elsie on Easter, and later that summer Shasta, the Rottweiller. It was as we were dealing with Shasta for the last time at the veterinarian's that we met Lurch. Perhaps it was part of our grieving process for Shasta, perhaps we felt sorry for him, but whatever the reason, Lurch came with us.
In the years since, Lurch has grown into a seriously happy and healthy cat. Our two Manx-mixes, Ziggy and Zak, took him under their wings from the first day and taught him how to be a cat. While we certainly had reservations initially, he's adjusted to his disabilities to such an extent that even the word "disability" seems much too strong.
What he lacks for in physical ability, Lurch makes up for in other ways. He's an exceptionally smart cat, with an excess of personality. He learned quickly to compensate for his shortcomings; for example by using the ramps we provided for the stairs, or by carefully, claw-by-claw, climbing to the top of our 7 foot cat-tree.
Because of his condition, he's been referred to as "God's kitty" by at least one visitor, but we know that he's got a wee bit o' the devil in him as well. He likes to periodically ambush one of the dogs or other cats. He may fail, (attempting to jump forward is just as likely to result in a jump to the left or straight up), but he does so with great gusto.
We featured Lurch on our 1999 Christmas card:
That's Vera in front looking unhappy about being Santa-pup, but you can clearly see that Lurch is very intrigued by what he sees. Note his wide eyed look and the wide stance of his feet. Both are fairly typical.
Luch's accomplishments are best seen "in motion", though, so click here for a video of Lurch navigating the stairs to the basement. (It's a large download: 7,174,614 bytes). You'll see cameos of several of our other pets as well. Note how Lurch leans against the wall as he goes up and down, and the stilted way he walks on level ground. Interestingly enough, he does not use a similar ramp we have for him to go upstairs, preferring to simply anchor/claw himself to each carpeted step on the way.
Posted by Leo at 09:54 PM
The Ramp
How a short dog gets on a tall bed.
The ramp is essentially a 6 foot long 3/4x10" particleboard shelf, wrapped in carpet (which is staple-gunned to the underside). The riser is some left over oak cut as you see, and screwed together and onto the sides of the ramp. It's about 23 inches high at the end.
It's a big success. Vera (the oldest) uses it to come down, which was our goal, though she still jumps up onto the bed by herself after a try or two. Helen (the youngest, but who can't see well) used it from the moment it was in place. Guido (pictured above) still prefers the "wild flying leap" to get on and off the bed, especially when it's time to wake up whoever happens to be asleep at the time.
Posted by Leo at 09:48 PM
My Story
How I came to be at Microsoft, and how I left.
Posted by Leo at 09:45 PM
Our Home Network
(a little out of date)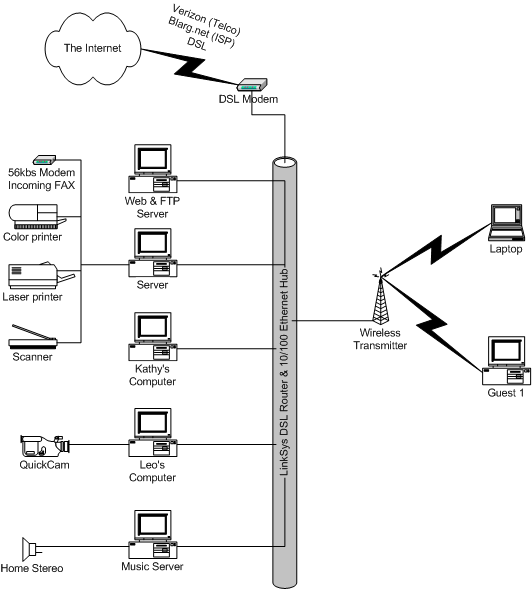 Here's a diagram of my home setup. It glosses over a few things, but that shows pretty well how things are set up.
Equipment
My ethernet "backbone" is a LinkSys DSL Router model BEFSR81 which includes an 8 port, auto-sensing 10/100Mbs hub.
Most of the network cards are Intel 10/100's. (Intel has a bunch of different network adapters, look here for a start.)
The wireless transmitter is an Cisco/Aironet 340 access point. Each of the wireless computers have one of the corresponding 340 ISA, PCI or PCCARD (PCMCIA) wireless network adapters. (Click here for more details about the access point and the network cards.)
My computer is a Dell Precision 360 3Ghz hyperthreaded machine with 2gig of RAM and 60gig of hard disk space. My old Dell dual-proc 450 Mhz is the music server. Kathy's machine is a Dell 333Mhz. The web/ftp server and the print server are assembled by Bear, a local company, 500 and 550 Mhz respectively. The Laptop is a Dell Inspiron 2100. All are running either Windows XP Pro or Windows 2000 Server.
Terminal Services
PC's are fundamentally one-user-at-a-time computers. That's really what the "Personal" in Personal Computer is all about. There's one screen, one keyboard, one mouse…all set up for one user.
Windows 2000 includes a feature that enables what is essentially multi-user access. Any PC (running any OS) on the network can connect up to any Windows 2000 Server machine on the network, and can set up their screen, keyboard and mouse such that they are really using that server … theirs is only a "thin client" that handles sending the keystrokes and mouse movement to the server, and sending back the updates to the screen.
Windows XP also has this functionality, but it it not multi-user. "Remote Desktop" uses the same technology, but actually provides a remote connection to the "real" desktop session on the computer.
I haven't done it for multiple-user support. Since that all happens via a network connection, it's a great way to use a machine from a remote location. For example, my primary machine has Remote Desktop enabled. I can then use that machine from anywhere in the house ... by taking my laptop and using Remote Desktop Client to connect to the primary machine. I can then use it as if I were there, sitting in front of it. One other side effect is that several machines, the music, web and print servers, are "headless" - that is they have no keyboard, mouse or monitor attached - after they're set up, if I need to do something to them, it's always via terminal services.
Wireless
The wireless I'm using is all the IEEE 802.11b wireless standard, sometimes referred to as "Wi-Fi". It provides up to 11Mbs throughput.
With the wireless transmitter installed in roughly the center of my house, I am able to use the laptop just about anywhere…from the garage at one end, to the back yard at the other, to the family room in between. And perhaps most importantly, on the deck outside. It's also allowed me to place computers in rooms that are not wired for a network at all.
A laptop with wireless networking and terminal services means that I can access any computer on my network from anywhere in my home, or even my backyard.
The access point I have is fairly spendy. It cost me about $1,000 a couple of years ago, and new and cheaper compatible equipment has come since then.
If you are building a network from scratch, I recommend a nifty box from LinkSys: EtherFast® Wireless AP + Cable/DSL Router w/4-Port Switch. I recently installed one for a neighbor and it seems to work really well, and installs, sets up and configures very easily. In fact it worked well enough that I also set one up at the doll shop. It provides the following functionality:
NAT "firewall" protection
Wireless Access Point
4 Port 10/100 Ethernet Hub.
I think we paid about $250 for it. For small home networks, it's a great one-stop solution. The only thing I'm not sure about is hosting a web site behind the firewall. I think it can be done, but it wasn't called for in my neighbor's installation, so I didn't pursue it.
Posted by Leo at 09:34 PM
KLeo Foundation
Our Family Foundation
Posted by Leo at 05:27 PM
A Letter To Myself
Lessons Learned
Posted by Leo at 05:27 PM
Corgwn
Yet Another Corgi Site
Posted by Leo at 05:26 PM
Puget Sound Software
Leo, Incorporated
Posted by Leo at 05:17 PM
Forwarded Funnies
The Humor Archive
Posted by Leo at 05:16 PM
Dolls and Friends
Kathy, Incorporated
Posted by Leo at 05:16 PM
Ask Leo!
You have questions, I have answers.
Posted by Leo at 05:14 PM
May 06, 2004
My speech at the Providence Marianwood Spring Luncheon
May 6th, 2004
I was asked to speak, giving "A Family Story", at this years Providence Marianwood Spring Luncheon. Marianwood is the non-profit nursing home where my father now lives.
†
My father is a resident of the "A" wing, or Alzheimer's unit, at Providence Marianwood. I'd like to tell you a little about how he came to be here, and how blessed I feel to have him here.
My mom and dad have lived what I've called a "fiercely independent" life. They immigrated together from Holland, leaving family and friends behind. They spent some time in Canada, where I showed up, and then eventually settled here in the Seattle area where they've lived for roughly the last 40 years.
My dad, who's now 88, was diagnosed with Alzheimer's several years ago. If you know anything at all about Alzheimer's, you know that it's terribly hard on the caregivers. My mother was his caregiver; she took care of him until she no longer could.
†
A year and a half ago, right around Thanksgiving, and their 55th wedding anniversary, my mom fell seriously ill.
We made the difficult decision to move my father to an assisted living facility. That worked about as well as such a difficult transition could. He lived there for 4 months ... until he fell and broke his hip.
The director of the assisted living facility recommended Providence Marianwood highly, indicating it was the best place for my father to recover.
†
You can imagine the situation: I'm an only child, my father is seriously injured and my mother is gravely ill. I'm scrambling simply to keep my head above water as I deal with issues I'd never before had to think about.
From the moment my father arrived at Marianwood, it was clear he was getting great care. Besides his Alzheimer's, he happens to be incredibly deaf, and has a tendency to lapse into his native language, Dutch. The staff on the Alzheimer's wing has shown incredible patience and care ... and creativity ... in communicating with him.
The result is that my father is content.
Now ... please understand that for me, that's a monumental statement. It's not something I ever would have dreamed being able to say in this situation.
And I have peace of mind. Not only is he content, but he's safe and exceptionally well cared for. We originally planned for him to return to the assisted living facility, but that plan quickly changed. I honestly can not envision a better, more appropriate and more caring situation for him than at Providence Marianwood.
This became particularly important not long after he was admitted. My mother's health continued to decline, and one year and two days ago today, she passed away. I can't tell you how important and how comforting it was, to know that my father was in such good hands while I dealt with the other half of our family crisis.
†
Providence Marianwood is more than a nursing home, it is a home. In fact, it's now my father's home. The staff are more than staff, they've become friends and important resources. The other residents who share his home have become familiar faces.
A lot of things go into making a home, and for my family, one of those has always been our animals. The folks at Marianwood understand the value of both resident and visiting pets.
As a result, my wife Kathy and I typically bring one of our three Welsh Corgis to visit my dad. In fact, if my name sounds at all familiar, it might be from a short article Seattle Times columnist Sherry Grindeland published some time ago about Marianwood, our dogs, and another Corgi named Tucker. Tucker belongs to one of the A unit nurses and can also be found there on most days. Today we have our dog Guido with us to represent the Marianwood Corgi Contingent.
†
We're very fortunate, in that we can pay for my father's care, but not everyone can. Preparing for this luncheon I learned that over 50% of the residents are on Medicaid resulting in Marianwood providing $700,000 worth of uncompensated care last year. To be honest, that shocked me, and it's one reason I'm sharing my story with you today.
†
In spite of the crisis of the past 18 months, I know today that my family is truly blessed. In what I call our "new definition of normal", I'm incredibly grateful for care that my father receives at Marianwood, and the peace of mind that his being here gives me. I know that no matter what happens, he's in the best possible place, with people who truly care.
Thank you.
Posted by Leo at 12:00 PM